Unleashing the Power of GIS in Defence: An Insightful Perspective from IGiS
Introduction
GIS is a pioneering technology that has become an indispensable part of our rapidly progressing technological landscape. It authorizes users to create interactive maps, discover spatial information, and efficiently communicate their findings. GIS assimilates various technologies, processes, and sciences like cartography, geology, satellite imagery and so on.
GIS & Remote sensing has become an essential asset in the defence sector, modernizing military operations on a universal scale. Through the combination of spatial data, Satellite Images and progressive technology, GIS endows defence forces to enhance their situational cognizance, heighten decision-making evolutions, and enrich overall operational effectiveness in dynamic war scenarios.
The military agencies comprehensively engage GIS across a wide variety of applications, including smart platform management and its location integration, Geo-Intelligent based analysis is for better decision-making in dynamic/temporal scenarios, Operation Planning and management for the war field etc. Additionally, Intelligence, Surveillance & Reconnaissance (ISR) contributes to mission success by enabling proactive planning, efficient resource allocation, and a comprehensive understanding of the operational environment. This blog digs into the diverse applications of IGiS in the defence sector, shedding light on its intuitive influence on contemporary military strategies.
IGiS in GEO-Intelligent-based Analysis
GIS and remote sensing have a significant impact on defence administration, serving as essential tools using the GEOINT. It refers to analysing and utilising geospatial data and information to support military operations, decision-making, situational awareness, effective planning, monitoring, and maintenance, etc.
» Data Compatibility for Defence Uses
Spatial information has consistently held great significance for military commanders, with a profound understanding of terrain being a crucial skill within the military domain. In order to facilitate operations, planning, and training, defence organizations rely on mapping and associated products. The need for extensive geographical coverage and higher resolution continues to grow, along with an expanding range of product requirements and different data formats. Such issues can effectively be solved using IGiS facilities of importing/exporting legacy data in various defence-related data formats like – .dgn, .mdb .shp, .tif, asci, .kml, .dwg, .geojson, .tiff, .img, .ecw, ArcInfo Binary format etc. Data can interactively be displayed for better understanding using a comprehensive defence symbol library specifically designed for defence applications. Furthermore, it facilitates the import and export of elevation data, conducts surface analysis, generates contour lines, and enables path profiles, and 3D visualization. IGiS has the potential to provide some useful insights in this sector, such as
» 1. Target Identification and Detection
The military and defence industry possesses a significant arsenal comprising powerful and lethal weapons. The potential devastation that these weapons can cause when falling into the wrong hands is widely recognized. One of the precautionary steps for this issue taken is maintaining an inventory of all the assets. GIS and Remote Sensing enables the facility to identify various inventories and infrastructures of military organizations such as vehicles, tanks, bunkers etc. Other assets can be monitored by creating accurate and precise geospatial databases of high-resolution imagery archives and historical databases. To demarcate such assets, AI/ML-based Object identification and object detection-based technologies play a vital role in this field. IGiS with its out-of-the-box Geo-Dristhi module (AI/ML-based object identification tools), and Automatic Feature Extraction (AFE) based Image Processing module within its baggage serves this specific purpose.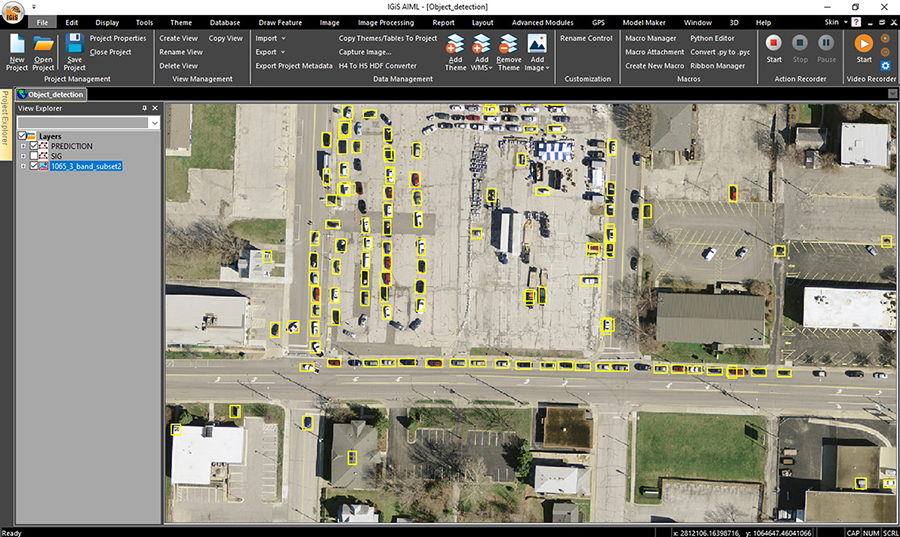 » 2. Temporal Patterns in Military Operations: A Closer Look at Change
Temporal change analysis embraces significant status in the defence system as it empowers the provision to identify temporal disparities in terrain, infrastructure, enemy activities etc. This analysis enhances situational consciousness, enabling commanders to fine-tune the strategies and distribute the resources proficiently. Additionally, temporal change analysis contributes to intelligence analysis, evaluation of post-mission outcomes, and the creation of predictive models to enhance decision-making and strategic planning capabilities. For these, IGiS provides the Image Classification modules consisting of Supervised, Unsupervised, SVM, Neural Network, Random Forest, and Fuzzy Algorithm-based classification methods. To find the Temporal Changes it has dedicated Change Detection modules comprising Basic to Advance change Detection to Auto Change Detection. Additionally, IGiS provides the facility to perform Indices based analysis, Site Monitoring and Assessments as an out-of-the-box facility.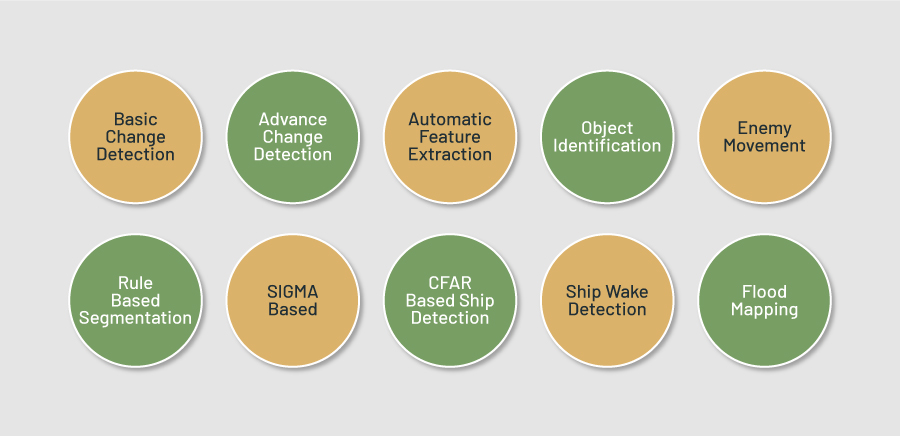 » 3. SAR-Based Image Analysis
SAR image processing plays an important role in military applications by providing vital applications for target detection, intelligence gathering, mapping and geospatial analysis for proper battlefield assessment. It allows the users to extract information in relation to mission and operational planning. Additionally, it helps in maritime operations and coastal monitoring and enables uninterrupted surveillance across various scenarios. IGiS provides our of the box facility to process and analyse SAR datasets along with Calibration and Data conversion facilities like (Full Polarimetric to Hybrid Polarimetric conversion, Stokes vector Generation), Image Classification, Decomposition, Rule-based Segmentation, Image Clustering etc. Moreover, IGiS has integrated CFAR and Radon wake detection module which is used to identify the presence of a ship by detecting the radioactive trail or wake. Furthermore, IGiS also have the capability to adjust the influence of the ocean's surface conditions or sea state along with the functionality to detect the ships in the water. In addition to that IGiS provides a Flood Inundation Mapping tool to analyse the flood affected areas by comparing the pre and post-flood situation. In lieu, military officials can use this as a tool to analyse and predict the flood-inundated areas before setting up any infrastructure or any operational planning. Thus IGiS plays a significant role in the Defence sector, providing valuable tools for effective maritime operations and decision-making.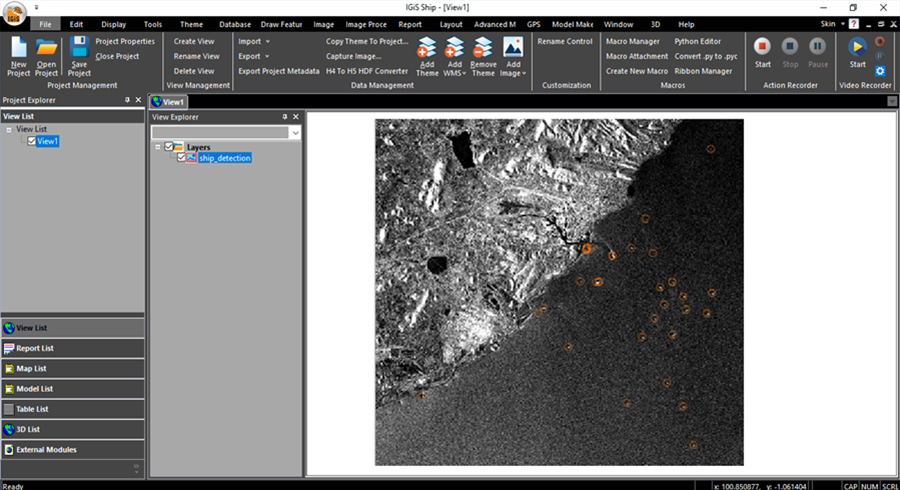 » 4. Tactical Decision Support System:
IGiS allows defence organizations to access and gaining the advantages of the Tactical Decision Support System in the battlefield. It is a combination of various data sources, analytical tools, and visualization capabilities to provide a comprehensive and integrated picture of the battlefield. Some of these kinds of facilities are mentioned below-
Creation of a map-board of the Area of Interest (AOI) to depict operational scenarios.
Development of a custom symbol library to illustrate the operational deployment of forces, obstacles, supporting arms and services.
Incorporation of decision support tools for site suitability analysis and planning artillery gun deployment.
Analysis of integrated 2D/3D solutions for visualizing the mission and its proper planning.
On-the-fly creation of tactical overlays, including the use of 3D model.
Visualization with military grid data to ensure accurate geolocation and identification of military targets such as gun pits, bridges, and designated combat boundaries (DCB).
Direct creation and editing of military overlays on the 3D/2D environment.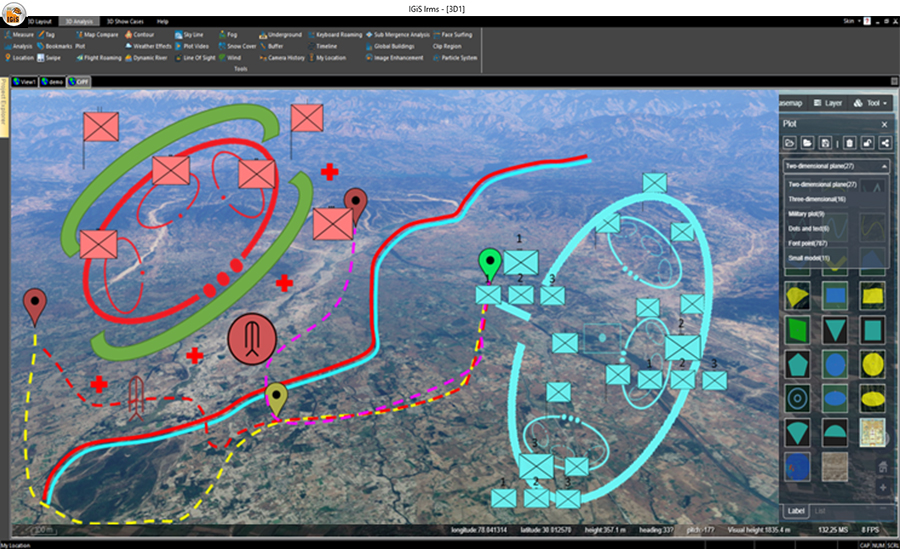 » 5. Photogrammetry:
Photogrammetry finds extensive use in the military for reconnaissance, intelligence gathering, target identification, and mission planning. By analysing photogrammetry techniques user can create detail map. Additionally, updated DTM and DSM maps will help defence users for operational planning like Best Path, Slope, Aspect, Hill-shade, Ruggedness Index, Hypsometric analysis, Relief Map, Basin characteristics, Hydrological Analysis etc.
To serve all these purpose IGiS comes with dedicated Photogrammetry Module. It has the data support of Digital Globe Geo-Eye, Cartosat series, Perusat-1, Astrium, and Superview along with pre-processing of Stereo imagery, Marking of GCP Points, RPC and Camera calibration based Bundle Block Adjustment, 3D model Generation. User can get DEM, DSM, and DTM and can check the accuracy of the output with the provision of DEM mosaic and DEM correction functionality. If required additional information can be added.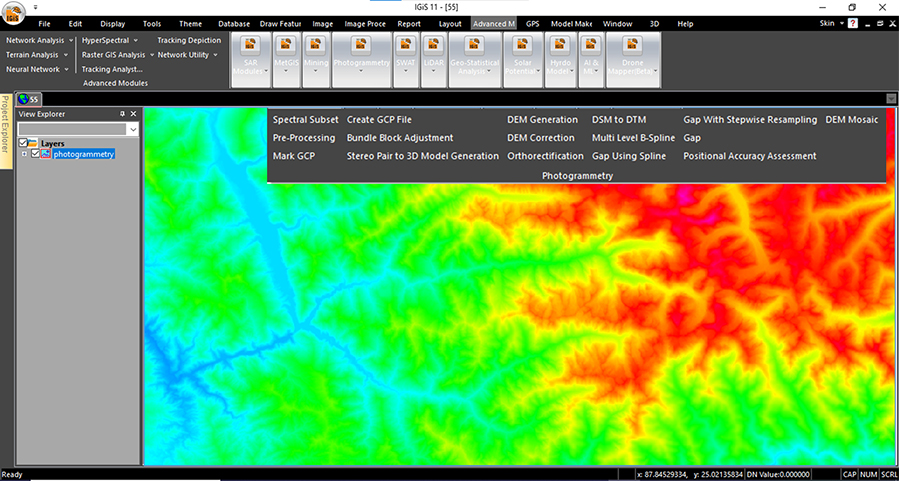 » 6. Map Navigation Module:
Any Military system or operations cannot be managed without the proper mapping and map visualisation activities. IGiS offers the dedicated tools for map visualisation, map navigation like Zoom, Pan, Search, Measure, Layer Management, Book Marks, Swipe, and Flicker, Transparency management, with different types of charts, bars, and info graphical tools etc.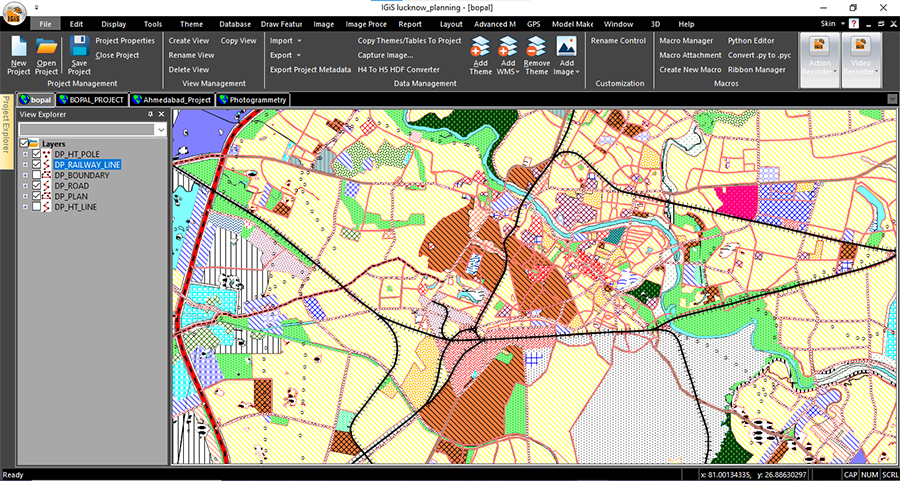 » 7. 3D GIS Module:
3D visualization holds significant importance in military applications due to its ability to enhance situational awareness, aid decision-making, and improve operational effectiveness. It provides better situational awareness, helps in mission planning and rehearsals, intelligence analysis, etc. IGiS technology provides inbuilt functions to perform 3D analysis by using terrain data and satellite imageries. IGiS also comes with in built support of creating 3D spatial tiles which provides defence users with various analytical power in three dimensional arena. It is equipped with tools like Line of sight, 3D volumetric analysis, View shed analysis, on the fly slope aspect and contour generation with 3D fly thorough simulation. These tools equips defence sector with a facility of robust tactical planning and in result minimises manual planning efforts and has potential to heavily decrease defence losses during live operations.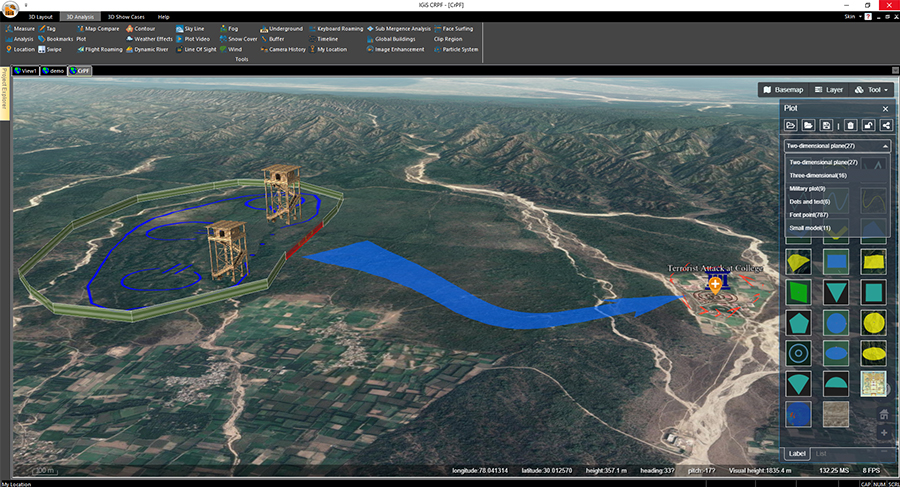 » 8. Met GIS Module:
It is highly beneficial for military operations to know accurate and timely weather-related information for mission planning, tactical decision making, logistics & support planning etc. IGiS provides out of the box facility to process and analyse satellite based meteorological data, provide facilities to predict hourly weather phenomenon and also allows the user to visualise and monitor live wind vectors flow direction for operational deployment and actionable planning.
» Integrating IGiS Platform for Operational Efficiency in Defence Applications
Military platform integration refers to the process of linking and synchronizing diverse military systems, equipment, and podiums to augment the operational competences, effectiveness, and usefulness. The following are applications making defence decision support system effective:
» Data Interoperability
Integration allows different military platforms, such as ground vehicles, aircraft, naval vessels, and command centres, to communicate, share data, and operate together seamlessly. IGiS provides huge range of data interoperability facilities to the end users as it has the support of end numbers of industry standard raster, vector, tabular as well as satellite based data within its database be it from any kind of commercial vendors or be it from the open database available in the market.
» Sensor Integration
Integration facilitates the blending of data from multiple sensors and sources, such as radar, surveillance systems, and intelligence feeds. IGiS is well capable to integrate the different kind of IOT sensors by means of both way integration facility by adopting standard OGC map service and Rest API process flow along with the high-level solution architecture of Enterprise GIS integration as per the need of Defence Sector. To establish this flow it has different components such as IGiS enterprise server, web database server, web server, Publisher etc.
» Command and Control:
Integration enables centralized command and control capabilities by integrating various command and control systems, communication networks, and information management tools. This integration allows military commanders to have a universal understanding of the battlefield and assists in informed decision making capabilities in real-time.
» Information Sharing:
Integration facilitates the secure sharing of information and intelligence across different military platforms, units, and command levels ensuring that all relevant parties have access to the necessary information for effective decision-making. IGiS Server can be configured with several security protocols and standards like Database, Secure Socket Layer (SSL) and Transport Layer Security (TLS) Protocols, Active Directory, and Lightweight Directory Access Protocol (LDAP), etc. IGiS has facility of spatially masking data for the secured areas. Here, Database comes under Red Zone, Sever is on Blue and the GUI for the end user comes under Green Zone.
» Reduced Operational Complexity:
Integration simplifies the operational complexity by streamlining processes, reducing redundant systems, and standardizing interfaces and protocols for improving efficiency.
» Suitable Site Analysis
GIS and Remote Sensing play a vigorous role in defence related planning, forecasting and design by aiding suitable site selection. Through the incorporation of various geospatial data layers such as terrain, land use, environmental parameters, and airspace restrictions and proper zoning for different others parameters for setting up defence infrastructures, GIS helps to categorize suitable locations for infrastructure development and ensures optimal orientation and capacity. Serving all those needs under a single umbrella, IGiS provides the users MCDM (Multi Criteria based Decision Making) based site suitability module, Cost Distance tool, Corridor Analysis module for mapping and design of efficient defence connectivity throughout the nation.
» Operations and Planning
GIS and Remote sensing technologies are one of the decisive components for enhancing situational awareness in military operations. By assimilating data from various sources, including satellite imagery, aerial photographs, and ground-based sensors, they provide an inclusive understandings of the operational environment. This enables informed decision-making and effective mission planning.
To serve the above mentioned objectives, IGiS can help the defence force in several ways such as
IGiS map- creation and cartographic tools offers various functionalities to support offensive and defensive operations planning.
The system provides a user-friendly solution that enables quick and accurate dissemination of tactical overlays by using geo-location based analysis and deployment planning using best path, Corridor analysis, Area
Visibility mapping, and Line of sight mapping tools for prompt decision making.
Additionally, it includes road network analysis tools for logistic planning during operations.
It also aids in site selection for deploying weaponry to effectively neutralize targets.
The software facilitates the creation of 3D models for mission launches and able to perform different analysis to determine suitable areas for tactical installations.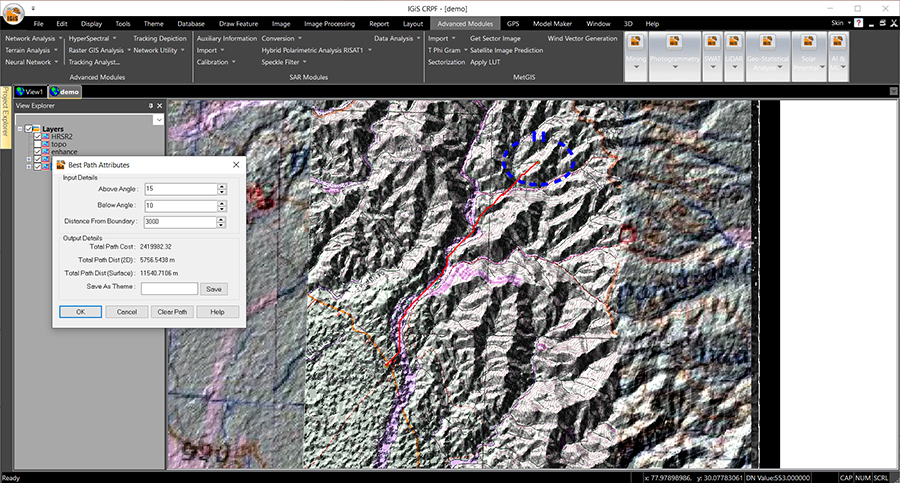 » IGiS and GBMRS
GBMRS – GIS/GPS Based Minefield Recording System is a universal approach towards the effective and efficient Mine field management that has also been implemented into IGiS. It enables the user to plan the mine fields based on Military standard protocols. It also helps in planning and designing the escape route with different parameters defined by the users along with proper tracking and management of user logs. This system supports defence forces to retrieve high risk minefield laying planning after they are being laid. This as a repercussion enables the forces to not be at risk of life, while doing any changes in these minefields post laying. IGiS by its customisation capability has come up with such a methodology and tool to achieve the same which helps our defence forces in strategic planning.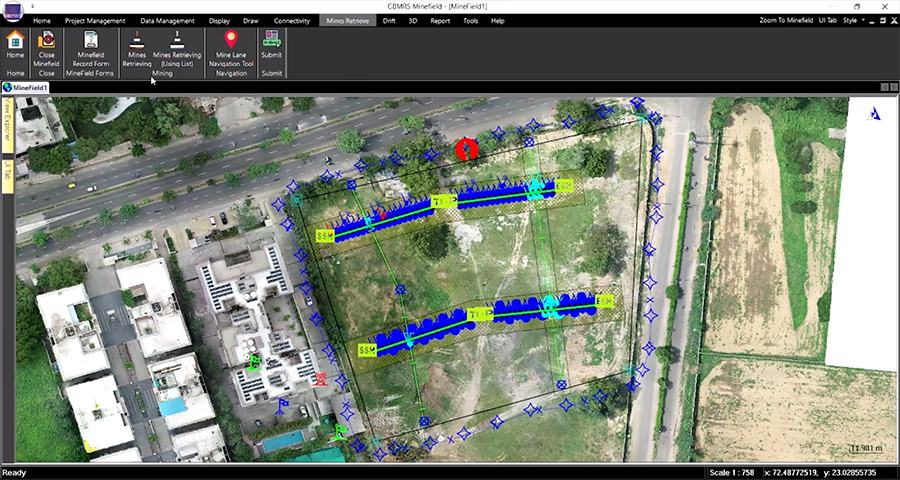 » Artillery Combat Command and Control System
Artillery Combat Command and Control system aka ACCCS is an automated artillery management, maintenance and control system which uses spatial and non-spatial information for high level decision making about tactical planning and deployment. IGiS provides various query functions which can be extensively used for planning of operational artilleries and they can be customised as per the high level decision making pre-emptive queries of the army and defence forces requirement. In addition to various queries it also encompasses various spatial analytics like buffer, line of sight and merges those together with artillery and deployed Ops information for spatial informative decision making of defence users.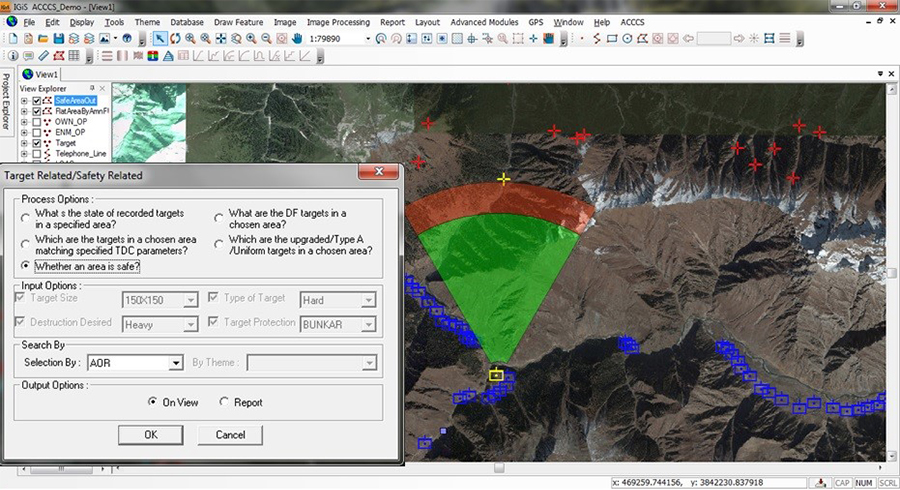 » Integrated Mobile solution for Engineer Corps
Real time data update has become a backbone for live asset data state updation and monitoring. This spatial methodology has enabled authorities to keep an eye on any on-going projects and status of assets in contemporary manner. As far as IGiS is concerned, it has an out of the box integrated mobile application with facilities like spatial geometry collection, customised forms and geotagged photo acquisition. In addition, it comes with a dedicated monitoring portal for data visualization, geo-fencing and monitoring which enables any department to know exactly what data is being collected. Defence forces can readily be benefitted through this technology by using this mobile application and monitoring portal to keep updated the older maps, asset data collection (in online and off-line mode) several engineering purposes.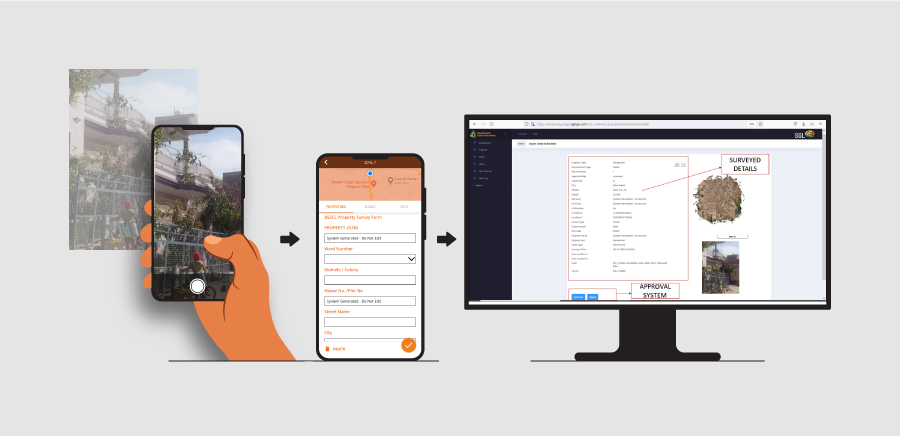 » Conclusion
Geographic Information Systems (GIS) have become indispensable in the defence sector, bringing about an alteration in military manoeuvres. Through the exploitation of spatial data, GIS expressively improves situational attentiveness, simplifies tactical decision-making, and heightens logistics in military operations. As a part of technological improvement and data analytics progress, GIS will uphold its obligatory role in shaping the future of defence and security. Overall it can be said, the utilization of GIS and Remote Sensing technology in defence helps security personnel's and decision makers' to achieve optimal usage of imageries and its power to quantify the tactical decision making which in return makes the country safer. Being a country which have a vast history of technical and scientific improvement in different sectors of the science and technology, we cannot be dependent over foreign technologies to safeguard our nation and our own motherland. IGiS as a make in India initiative has come a step forward to build our Nation by its own endeavour and we as SGL strongly believe that "We cannot Build Our Nation on a Borrowed Technology".
Latest Blog