Transforming Cities: Unlocking the Potentiality of IGIS in Planning and Monitoring of Urban Areas
Introduction
Urban areas are dynamic and intricate settings that are in a constant state of change. It is essential to efficiently plan and monitor these regions to ensure sustainable development and proper resource management. Urban planning is the process of designing, managing, and shaping cities, towns, and other urban areas to ensure efficient, sustainable, and liveable environments for their residents. The major components of urban planning include comprehensive base map creation, urban information systems, and land suitability analysis or site selection.
In recent years, Geographic Information System (GIS) has emerged as a valuable tool for urban planners and decision-makers. This technology allows for comprehensive analysis, visualization, and modeling of data, empowering urban authorities to make well-informed decisions and foster positive urban development. In India, the field of Urban Planning has witnessed rapid progress, with an increasing number of projects each year. Major cities have implemented city development regulations like AMRUT & NUIS for Smart City projects based on predefined criteria.
In this blog, various applications and benefits of IGIS software will be explored for planning and monitoring of urban areas.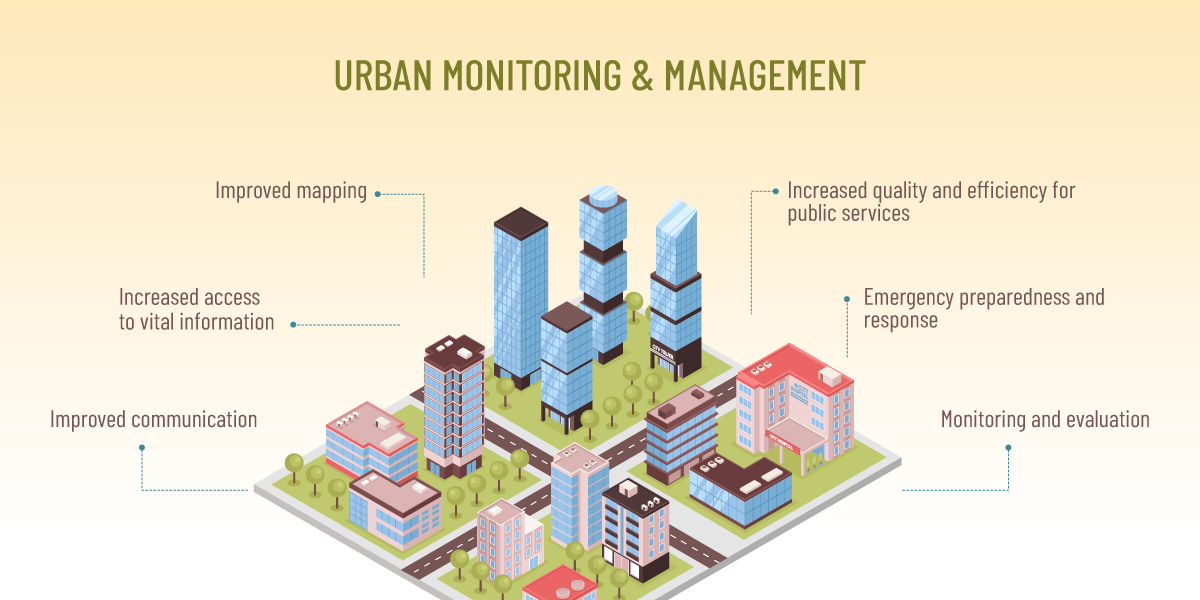 1. Base Map Creation
IGiS is a platform that offers a versatile range of tools & functionalities for creating base maps. This will be used for overlaying various information for decision-making activities. The base map can encompass multiple features, like, raster, vector, and web services, providing a solid foundation and context for all your mapping endeavours. With a wide range of tools, for digitization, data editing, and database management, IGiS empowers its users to craft accurate and detailed base maps, facilitating seamless integration and analysis of geospatial information for various applications.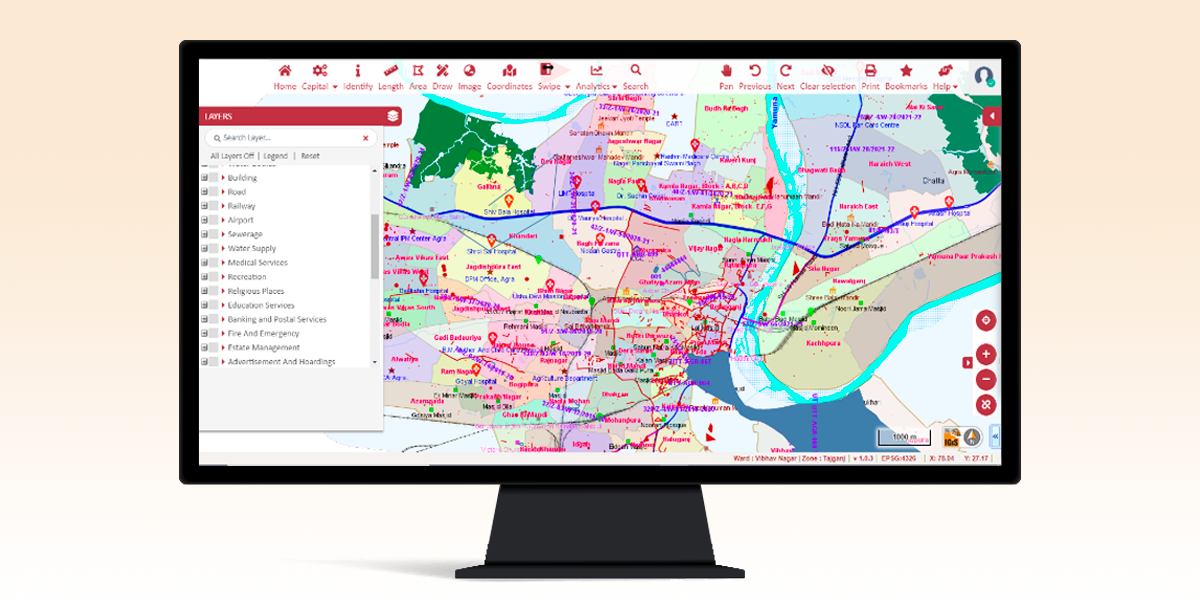 2. Urban Information System
The Urban Information System (UIS) is a comprehensive platform that houses a diverse range of spatial and non-spatial data pertinent to urban areas. It empowers ULBs and local governments to manage activities, offering immediate access to critical information at the click of a button. Utilizing IGiS, a UIS can be created that will serve as powerful means for governments in meeting long-term strategic planning and management challenges. This integrated system empowers local authorities to make informed decisions and optimize their resources, ensuring better urban planning and development for sustainable growth and prosperity. Several modules can be a part of UIS, such as
Building Permission Module
Property Tax Module
Water Supply Module
Stormwater Management Module
Project Management Module
Health Services Module
Solid Waste Management Module
Smart Transport Management Module
3. City Planning:
Due to the country's rapid population growth, unplanned urbanization has become a significant issue, leading to inadequate essential services, illegal encroachments, and various related challenges. Thus, there is a critical need to develop/ manage cities in a well-planned manner to ensure the provision of necessary services to citizens. IGiS, a geospatial software, provides a diverse range of tools to manage, store, and analyze geospatial information in a very efficient manner. IGiS supports city planners in significant ways in GIS-based master plan creation, town planning, property tax management, encroachment identification, etc. Various advanced drawing tools aid in effortless digitization procedures, Advance tool for Multi-Criterion Decision-Making, assist departments in planning and identifying sites for new construction, etc. Moreover, the realistic 3D visualization of terrains, & buildings, several 3D measurements & analyses, flood simulation modelling, etc. results in efficient decision-making activities.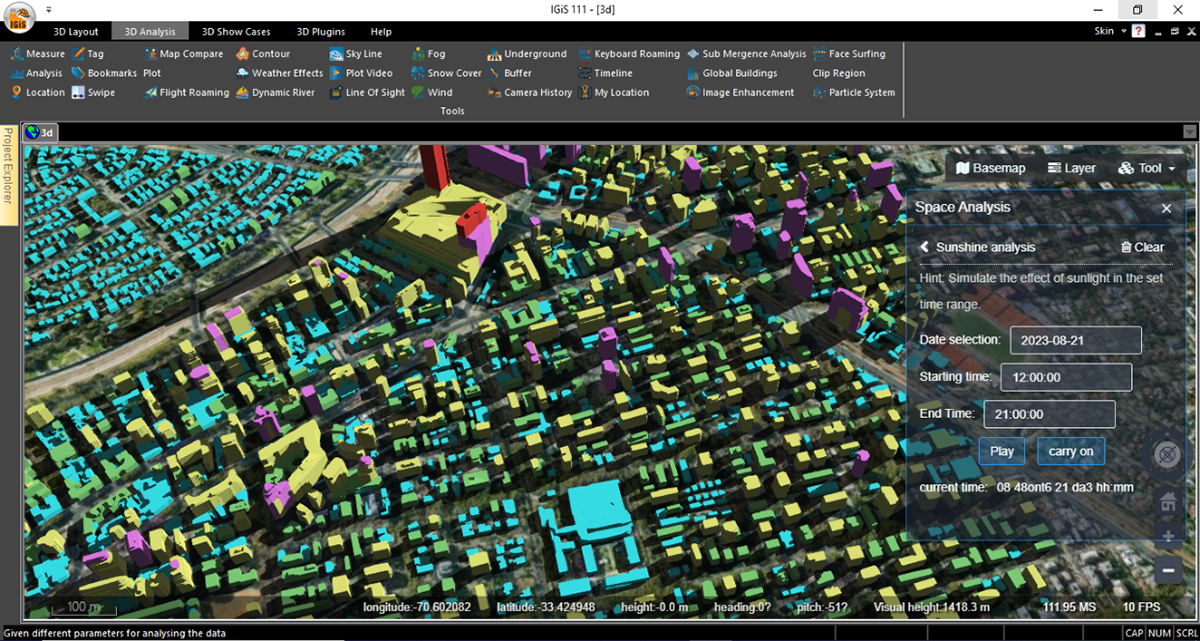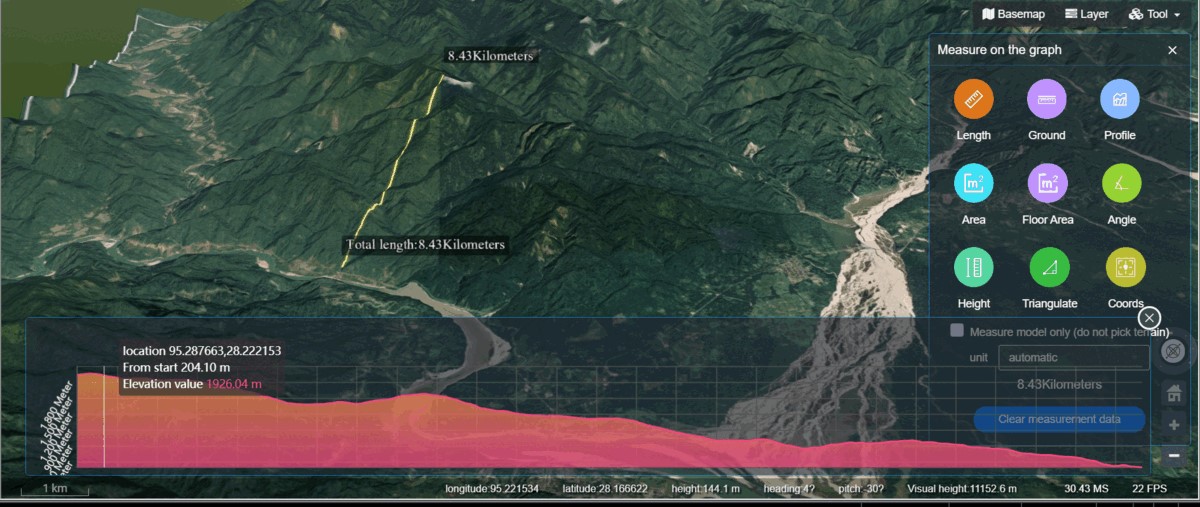 4. Land Acquisition and Land Management:
With the rising trend of urbanization, urban planners are facing a significant challenge in ensuring efficient land management. As a result, there is a growing importance placed on optimized utilization of available space, efficient land acquisition, and proper land management practices to address these urban planning complexities. By utilizing the classification module of IGiS, users can create Land Use/ Land Cover maps using various methods such as supervised, unsupervised, object-based classification, SVM classification, etc. This procedure will assist in recognizing current land use arrangements, unoccupied plots, and more, facilitating subsequent land use planning. The change detection component will aid in pinpointing encroached areas and enable appropriate measures to be taken in response. Using the IGiS Enterprise Platform all the layers created in the Desktop platform can be published over the Web Portal for efficient data dissemination within the Intranet or Internet. Further, an enterprise-based property tax management system can also play an important role in Land Acquisition and Land Management activities, like, building permission, owner details updation, and monitoring property valuations to ensure efficient and transparent land administration.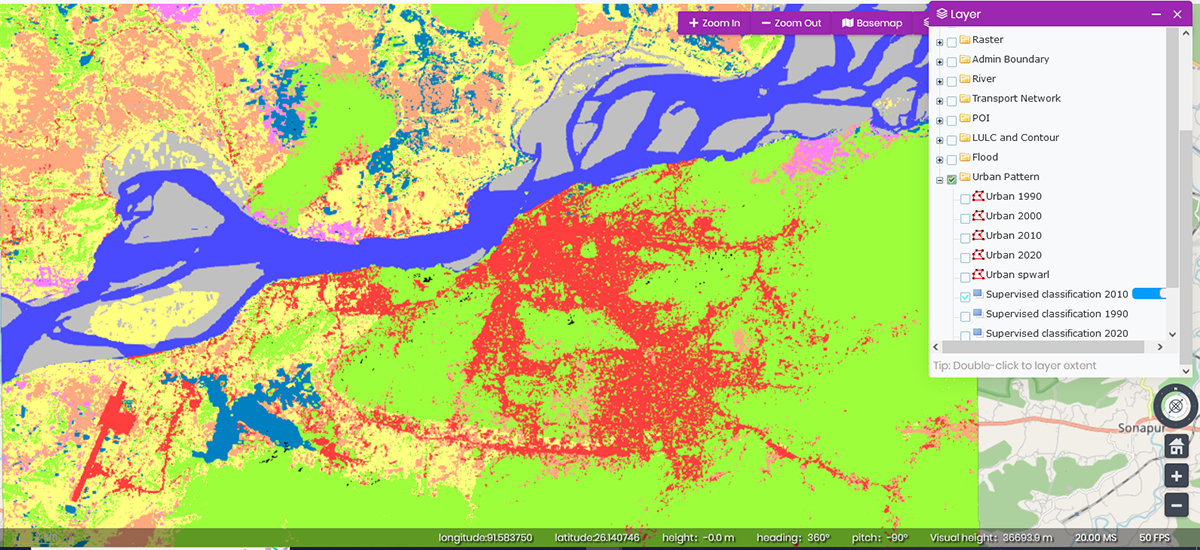 5. Infrastructure Management:
The demand for city infrastructures to be more reliable, dependable, and safe is higher than ever. Urban infrastructures like sewerage systems, wastewater collection and treatment systems, communication infrastructure, transportation infrastructures, etc. need to be monitored and maintained frequently. The IGiS platform supports a range of spatial analyses, including network planning, asset mapping, and more. These capabilities assist in connectivity tracking, asset management, and monitoring maintenance activities. Through the IGiS Enterprise Platform, it becomes possible to publish all the geospatial information on a Web Portal, facilitating visualization and the widespread sharing of information. Additionally, a function can be given over the web portal, through which citizens can report infrastructure-related issues, like blockage, maintenance requests, etc. for the seamless management of infrastructures. Distinct modules for various utilities and infrastructure management within different departments will offer role-based access for updating and modifying data, monitoring the undergoing maintenance programs, etc.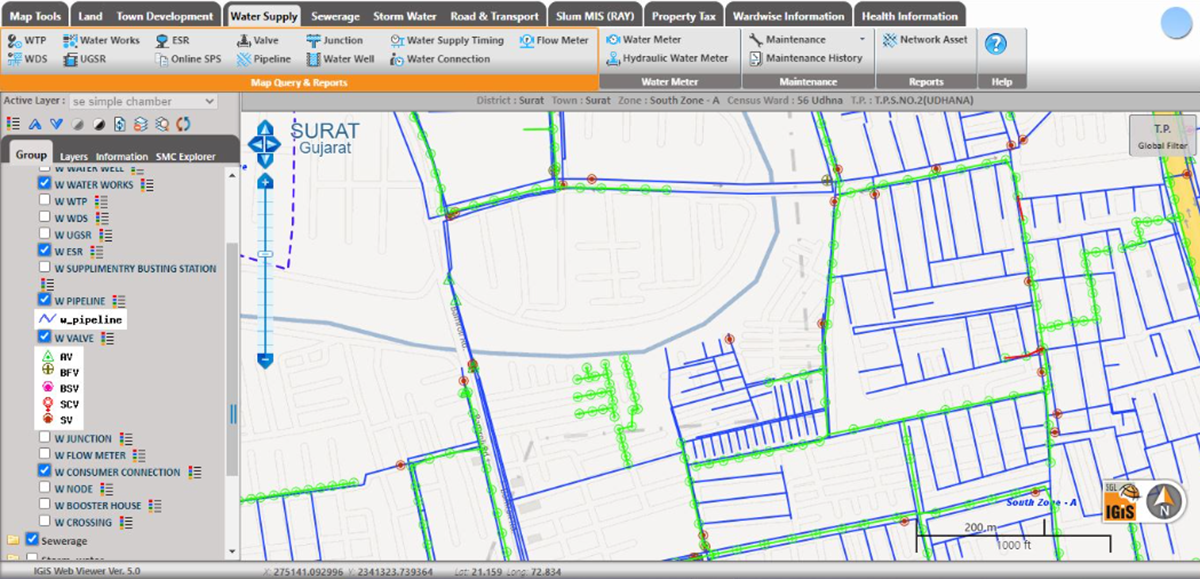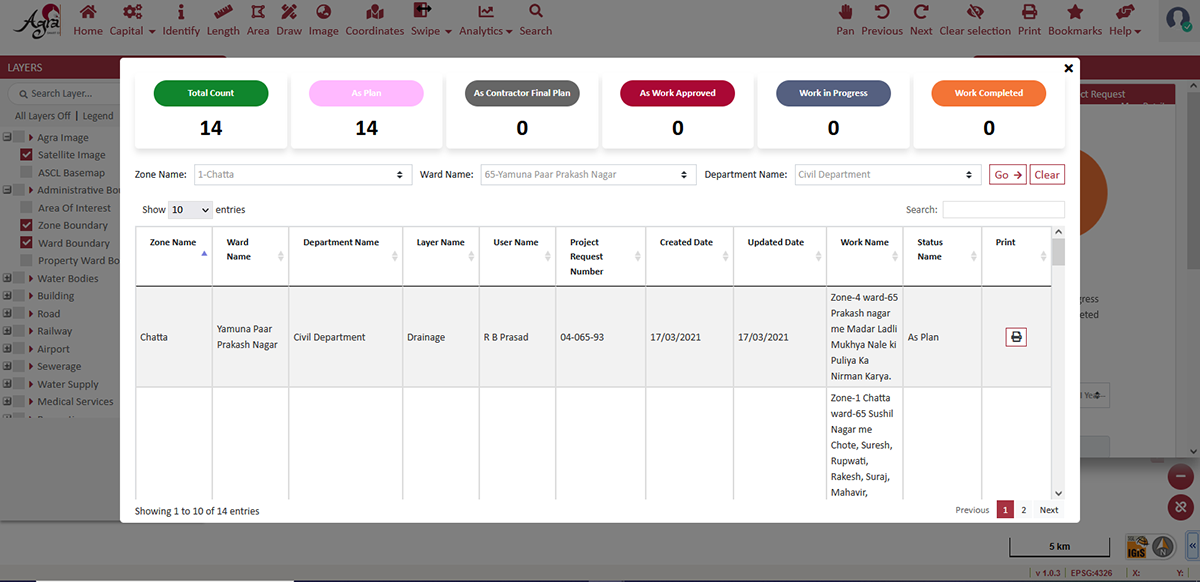 6. Transportation Management:
India's growing vehicle population is set to make it a major player in the global automotive industry. However, the current road infrastructure is not ready for the expected increase in traffic, especially due to the rise of electric vehicles needing charging stations. To address these challenges, governments are focusing on smart transportation systems for better traffic flow and EV infrastructure.
IGiS plays a crucial role in mapping, planning, and management in this realm. IGiS have a dedicated Network Analysis module and Linear Referencing System module that helps users to discover optimal routes, service area paths, and perform location analyses based on utility or incident locations. This tool greatly aids in transportation management, including highway maintenance, traffic modelling, route planning, and construction monitoring. Additionally, the IGiS Enterprise suite enables the development of web portals for transportation departments, empowering officials to provide real-time updates on accidents and road closures, and helping travellers choose alternative routes. Furthermore, IGiS facilitates the identification of suitable locations for EV charging stations through site suitability analysis.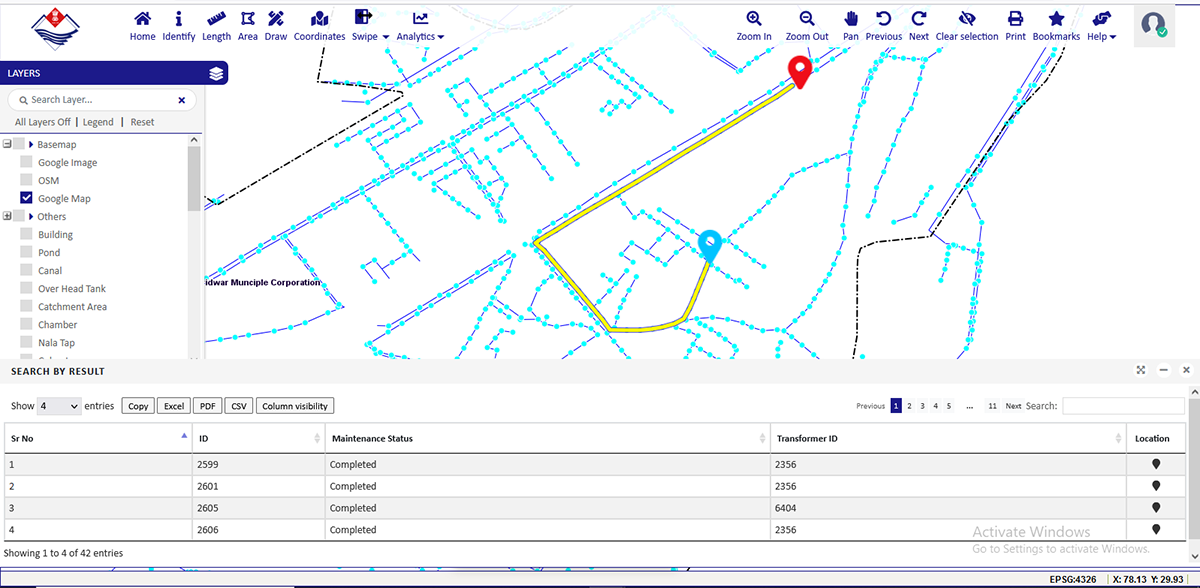 7. Green Space Management:
Greenspace management refers to the planning, maintenance, and sustainable utilization of natural and recreational areas within urban environments. Geospatial technology plays a vital role in effectively managing these green spaces, which include parks, gardens, wetlands, and other natural landscapes. IGiS Suite offers various advanced tools of Change Detection for the identification of encroached greenspaces, such as, abandoned grounds, ponds, parks, etc. Additionally, various indices viz., vegetation indices, built-up indices, etc. present within the platform can generate the vegetation map and built-up maps automatically to detect the transformation of lands from green spaces to the built-ups. Subsequently, authorities can make decisions concerning encroachments and undertake actions to restore the Green Spaces. In addition, to rejuvenate existing green areas, creating new ones is also crucial. As urban expansion leads to deforestation, IGiS facilitate various robust tools that aid in the identification of prospective locations for green spaces. Overall, IGiS enables sustainable planning, effective monitoring, and improved maintenance of green areas in urban environments.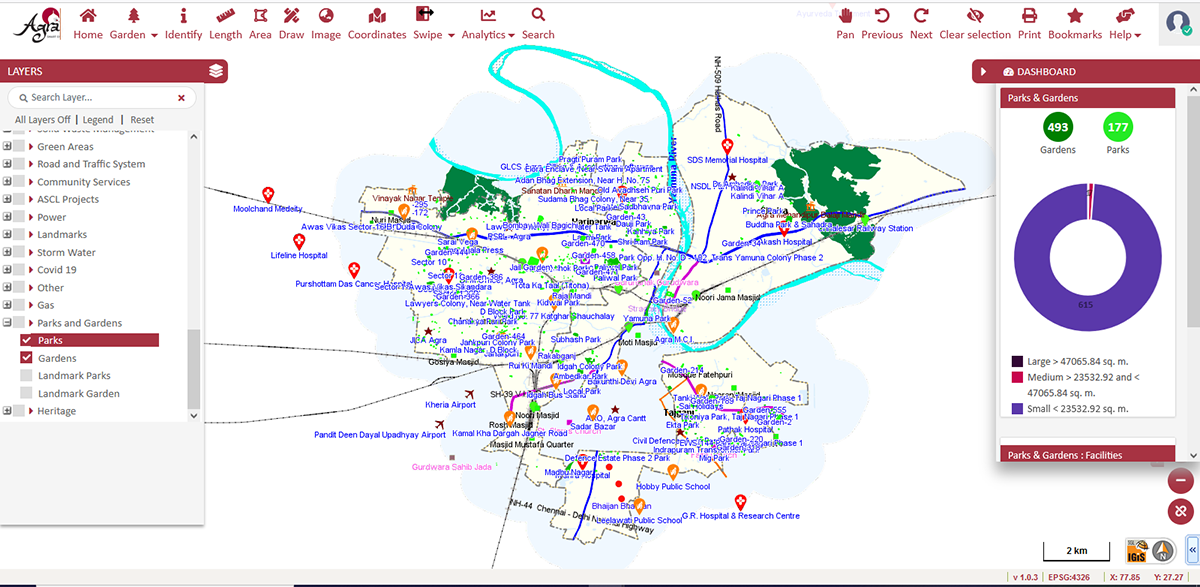 Conclusion:
In conclusion, geospatial techniques have emerged as indispensable tools in the contemporary planning and monitoring of urban areas. Its ability to collect, analyse, and visualize spatial & non-spatial data empowers urban planners, policymakers, and authorities to make informed decisions for sustainable and efficient urban development. IGiS enhances the accuracy of urban plans, aids in infrastructure management, optimize resource allocation, and fosters public engagement. The Enterprise-based IGiS Platform provides a holistic approach for tackling the complex challenges caused by rapid urbanization, through smart city planning, infrastructure management, land management, etc. Thus, urban planners can create well-designed, resilient, and liveable cities that cater to the needs of present and future generations by utilizing the IGiS Platform.
Latest Blog