Genesis of SGL
Scanpoint Geomatics Limited (SGL) is the pioneer of IGiS, an indigenous technology which brings GIS, Image Processing, Photogrammetry and CAD together on a single platform. Apart from offering this unique product in the market, SGL caters to a wide spectrum of solutions panning out across various sectors such as smart cities, urban planning, land information, agriculture, defense & homeland security, disaster management, forestry, water resource management, geology & mining, utilities and location based services.
SGL has developed into a multi-faced organization as a result of two-decade long buildup. The year 2000 marked the beginning of a rigorous research and development period for developing an indigenous GIS technology.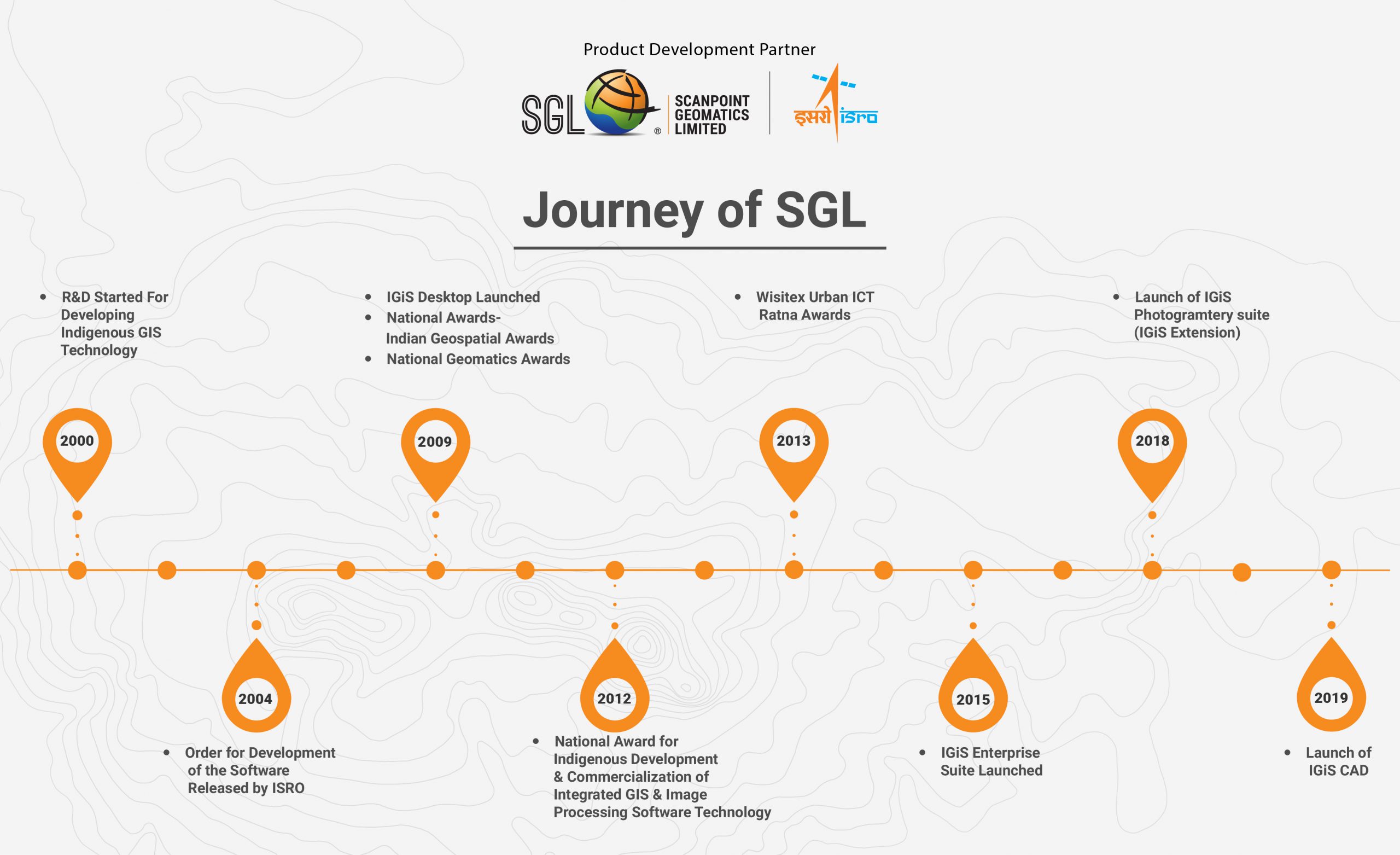 The Origin
IGiS draws its origin from certain events and development that took place at Space Applications Centre (SAC) – one of the main centers of ISRO located in Ahmedabad. It was in 1999, when Indian Space Research Organization (ISRO) decided to commercialize the remote sensing applications for development of the Indian remote sensing and GIS industries. A small cell by name Value-Added Services Cell (VASC) was formed. Eventually it is this cell which came with the idea to develop integrated indigenous GIS & Image Processing software as alternate to MNC products. But still there was a long way to go as earlier SAC had tested two failures in form of commercial ventures related to IP and GIS software called SACIMAGE and ISROGIS respectively   Hence, idea was mooted to get it developed by industry player with algorithm and application as guided by SAC team to be embedded in it. SAC team met up with RS/GIS companies which had potential for developing this software and clarified to them the requirements of new and original development. They went to Delhi, Hyderabad and Pune meeting various well-known companies and invited them to come on board by participating in the tendering process.
So, it all started when in a pre-bid meeting of potential GIS developers, came Mr. Ramesh Sojitra, the founder of SGL. As the tender got refloated many times, Mr. Sojitra continued to show tenacity and resolve to get involved in the project. At last when all the presentations and tender responses from well-known industries were scrutinized, SAC was left with only one man standing up – Mr Ramesh Sojitra of SGL. All other multinational companies had run away offering only customization and rehashes – at least nothing near to a new suite of software with novel architecture and integrated functionalities envisaged. Here is where the order for development of the new SAC/ISRO IP-GIS software went to SGL and the rest is a history.
The Humble Beginnings
The order for development of the software was released in 2004. Test and evaluation was carried out by a team drawn from SAC, NRSC, RRSC and ISRO HQ. Thereafter, a technology transfer agreement was signed between SGL and SAC/ISRO in 2009. Eventually software got its present day name IGiS (roughly stands for Indigenous GIS and Image Processing Software) and the first version of the software was officially launched the same year by then ISRO Chairman at Bangalore.
Soon after the launch of the first version, developments of the next version were initiated in response to market feedback and to incorporate new modules. Eventually, this IGiS version 1.1 was released in 2011.
In 2012, SGL received the coveted National Award for indigenous development and commercialization of Integrated GIS and Image Processing Software Technology, under the category of "industrial/individual contribution for developing indigenous technology". The prestigious award was presented to Mr. Ramesh Sojitra by the Former President of India, Dr. A. P. J. Abdul Kalam.
Meanwhile many dimensions were added to IGiS in form of advance & geo processing modules, various data processing tools and full-fledged web enablement to eventually make it a scalable enterprise platform. IGIS Enterprise Suite was launched in 2015 by then ISRO Chairman, who was passionate about the idea of indigenous platform for larger good of country and society.   The current version of IGIS by far exceeds the original specification and is now one of the top end software amongst available COTS software. The deep commitment of SGL leadership towards enrichment and development of IGiS functionalities both in terms of GIS and IP was instrumental in it retaining its unique niche as Integrated GIS & IP Platform.  IGiS continued to grow and expand from a nebulous idea to a full scale, multi-dimensional, world class geospatial software.
IGiS Today
Today SGL provides multiple versions of IGiS commercially, IGiS desktop 2.0 and IGiS Enterprise Suite 5.0. SGL continues to release enhanced version from time to time. SGL has come a long way in terms of their clientele, servicing a client base from esteemed organizations like Surat Municipal Corporation (SMC), Pune Municipal Corporation (PMC), J&K – Dept Of Ecology and Forest, NeSAC, ISRO- NRSC, DRDO-NPOL, Agra Smart City, Dehradun Smart City, Aligarh Smart City, Ranchi Smart City, Lucknow Smart City, Indian Meteorological Department (IMD), Jadavpur University, Anand Agriculture University, Navsari Agriculture University, NIT-Raipur, Guwahati University, ICAR, Nagaland University, NIAS, NTTTR, NATMO and many more.
Latest Blog